Amberg twins enjoy final season of competing together at New Mexico State
Hang on for a minute...we're trying to find some more stories you might like.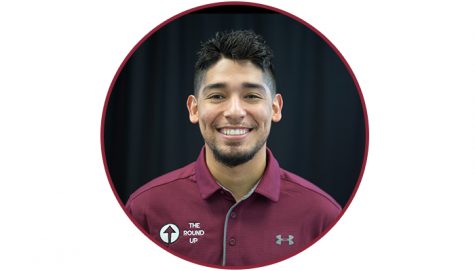 More stories from Jonah Gallegos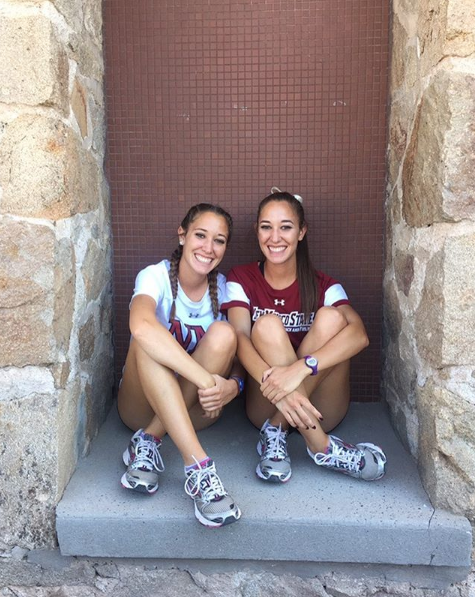 It is hard work and takes a little bit of luck to find a best friend to go through the peaks and valleys of life, but having a best friend forever is something two seniors on the New Mexico State Cross Country and Track and Field teams have had their whole lives and spoiler alert — they are sisters and were born only seconds apart.
Crissey and Cassey Amberg are identical twins and are distance runners on both the NMSU Cross Country and Track team, also being New Mexico natives from Albuquerque. The Amberg's have brought much success to both their respected teams and have helped sought out and bring WAC championship titles as well, even having much success in their own individual events.
But when asked if running has always been a part of their lives, they admitted that the sport was never fully picked up until their sophomore year of high school.
"We were soccer players our freshman year (of high school)," Crissey said. "We did Cross Country our sophomore year, our friends – they were like 'come try out, come during the summer, do our summer workouts with us.' – and we were hooked like after the first practice. Now were long distance runners."
The young women have a history of winning, as the Eldorado High School alumnae said they won the state championship in track as a team during their senior campaign and were also crowned the state champs in Cross Country during their junior year.
"We've always been like pretty good runners, we've always just like loved running," Cassey said very humbly.
The two of them have an obvious special bond, and have always been a package deal, even up to their college days. So when it came to deciding where to go to for college, there was no second thought of maybe being separated from one another. The two had multiple offers from schools, including notable offers from in-state rival the University of New Mexico and as well as from the University of Nevada, Reno. After an official visit to NMSU, it was Aggie Nation who was able to land the two dynamic runners.
"We were hooked," Crissey said. "The team had such a family atmosphere, everyone was so excited to be running – it was a great environment to be in. We knew after our visit; we were in the car going home and were like 'this one we just can't pass up on.'"
The two made it clear that the transition to NMSU was smooth sailing and having each other in a new environment was a big reason for the easy change.
"We've never had problems," Cassey said about always having her sister by her side. "We have so much fun together, I think it helps more than anything just to have that one person to support you through no matter what – I can always lean on her."
Although similar in appearances, academically the sisters venture off to their respected but different fields of study; Crissey is majoring in French and Spanish while Cassey is a public health major.
Superb athletes, identical twins and even closely spelled names aren't the only unique aspects of the duo; the pair of them are also outstanding in the classroom and handle their hectic schedules with high quality effort.
"It's definitely not easy," Crissey said about handling the workload of college classes and athletic events. "I like to think I have a good work ethic. I love my major, I love doing every part of it. I just like school and Cassey likes school too."
The two seniors will unfortunately put their streak of being together to an end after the conclusion of this spring semester.
"It's definitely going to be difficult," Cassey said about being away from her sister after graduation. "Crissey is staying (at NMSU) for the next two years, she's getting her masters and I'm going back to Albuquerque where I'm from – I'm planning on going to nursing school next fall. So this is going to be the first time we've been apart, ever – for like a long time. It'll be weird just not having her around."
Crissey is a redshirt senior and will have one more season of indoor and outdoor track and will also start graduate school at NMSU.
One of Crissey's most memorable moments of being an Aggie was when she placed first in the mile at the 2017 WAC indoor Track and Field championship, even setting a new personal record in the mile with a time of 4:54.79. She was also named the WAC Outstanding Track Performer during that year's indoor championship.
Ironically, the both share a memorable moment as well.
"For Cross Country this past year, we won WAC for the first time in like ten years," Cassey said. "So that was like super memorable – we just got our rings for it. That's like the best memory I've had because we were all together, we all raced our hearts out."
As their Aggie careers come to an end, their running days will not. Cassey will stick to just-for-fun-5k's and half marathons, while Crissey said she will do the same but will keep an open eye of maybe running at a higher level.
"I think if I was given the opportunity I would go pro or something – but you got to go fast, you got to be fast," Crissey said while smiling.
NMSU has seen great student athletes come and go throughout the years and the Amberg sisters will join that highly held list. Although their paths after this semester will differ, the two will leave behind a legacy of being great on and off the track.

Hang on for a minute...we're trying to find some more stories you might like.
About the Writer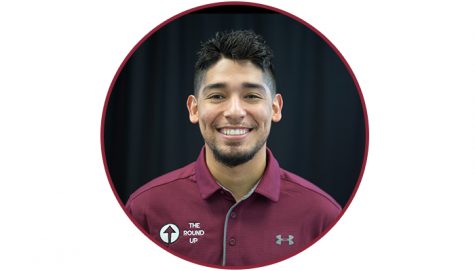 Jonah Gallegos, Sports Writer
Jonah J. Gallegos enters his second year at The Round Up and is currently a senior, majoring in journalism. Born and raised in Las Cruces, New Mexico,...