NMSU journalism class donates to nonprofit organization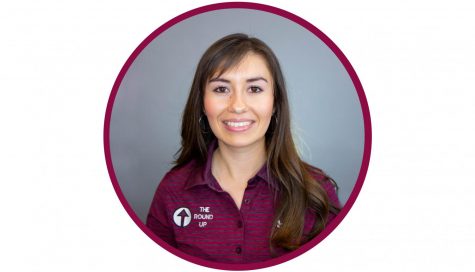 More stories from Leah Romero
A public relations class at New Mexico State University will be hosting a Give & Go drive to collect food and clothing from the campus dorms for Aggie Cupboard and Casa de Peregrinos during finals week as students move out for the summer.
Every year the Journalism 476 class takes on a nonprofit client that they can put together a campaign for. This year the class took on Aggie Cupboard and Casa de Peregrinos, which are local food banks for the university and city communities. Dr. Mary Lamonica, the professor teaching the class, said people from the NMSU Facilities and Services department told her that every year when students move out of the dorms in May, they throw away thousands of pounds of still usable items.
"I didn't grow up wealthy and I just thought this is rather shameful," Dr. Lamonica, said. "People could use these items."
Dr. Lamonica then contacted Greg Block, the Acting Director of Housing and Residential life, who agreed something could be done. The class, in partnership with the housing and facilities departments, came up with a donation drive that will take place on campus from May 7- 11, 2018.
Bins will be set up in all of the residence halls and as students pack up their belongings they can put unwanted items in the bins to donate. Acceptable items include nonperishable goods, toiletries, clothes and small household items such as lamps.
"Working with on campus and off campus partners such as Aggie Cupboard and Casa de Peregrinos, we can make sure that these items are taken to the right places and distributed in the most efficient manner to those who might have need for these items," Block said in the press release.
Dr. Lamonica, said the collected items will be split evenly between the two food banks. The class had previously set up a donation drive outside the Walmart Neighborhood Market on March 31, 2018.
Emerson Morrow, president-elect of Associated Students of NMSU and a student in the PR class, said the turnout for this event was much larger than he expected. The class collected 167 cans of fruits, vegetables, beans, tuna and chicken, 34 packages of pasta and 11 jars of peanut butter, among other items.
Meg Long, a program specialist at Aggie Cupboard, said the food bank sees about 70 to 80 people within a week and that all of the items they distribute come from donations.
"The public relations class food drive was a huge success and brought in a considerable amount of food for the Aggie Cupboard," Long said. "The marketing materials developed has also assisted me in reaching potential clients and donors."
Morrow said he enjoyed working with the two food banks because it was real world experience. He said the plan is to have ASNMSU take over the Give & Go drive next year and make it a tradition at the university.
"My basic philosophy is that if you are blessed, then you have a responsibility to pass that blessing on to other people," Morrow said.