NMSU baseball collects 30th win in front of record breaking crowd
Hang on for a minute...we're trying to find some more stories you might like.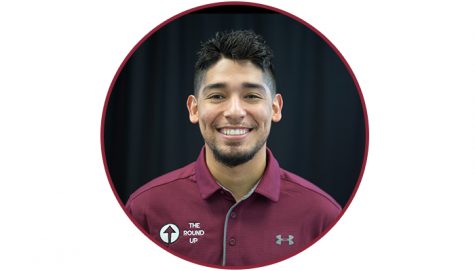 More stories from Jonah Gallegos
New Mexico State defeated the Utah Valley Wolverines in a comeback fashion to open their last home series with a 4-3 victory; the win came in front of record breaking attendance of 2,147 during Friday night's game at Presley Askew Field.
Junior pitcher Kyle Bradish (6-3), as he normally does, got the series opener start but had to work a bit harder than he usually does to pick up today's win. UVU came in and right away put pressure on Bradish getting some quick hits and even forcing the junior to throw a couple of walks early on.
The Wolverines (14-29, 5-11 WAC) scored in back-to-back innings, to put themselves ahead by a score of 3-1, which lasted all the way until the bottom of the fifth inning. Before that inning NMSU couldn't find any open grass, with solid contact coming from Aggie batters but no luck getting any type of base hits. Redshirt senior Aggie third baseman Trey Stine (1 for 3, one RBI) was able to change that and give his team life in the fifth inning by bringing in a run off a RBI-double. NMSU (30-16, 13-6 WAC) would tack on two more runs to make it a three-run fifth inning, that being the last inning that either team would score.
Bradish was able to develop a rhythm after limiting the damage early on, he then pitched four straight scoreless top frames; giving him a final stat line of seven innings pitched, four hits, 2 earned runs (one UVU run was unearned; scored a passed ball), six strikeouts and four walks. Junior pitcher Brock Whittlesey entered the game in the eighth and threw a quick top frame, collecting two backward k's. The ninth inning had fans, and both team's benches on their toes, as UVU had the tying run in scoring position, but it was Whittlesey who would be the clutch performer with a punch out to wrap the game up.
"Bullpen's been outstanding," head coach Brian Green said. "They continue to get better, as the year started we had three or four guys, now we've got five or six that are continuing to improve."
A name not mentioned enough is junior designated hitter Logan Bottrell (1 for 3, scored a run) who has shined in the lead off spot for his team. Along with Stine, Bottrell was able to get his team going in the fifth inning by laying a perfect bunt down the first base foul line and beating the throw, which then led NMSU's three runs which eventually won them the game.
"He's a smart player," Green said about Bottrell. "Obviously he's really fast, but he sees a lot of pitches and he's got a high on base percentage. He doesn't strikeout, he just does a good job of letting the ball travel and putting it in play and utilizing his speed."
NMSU will finish off their remaining home games this weekend as they wrap up their series with the Wolverines tomorrow and Sunday.

Hang on for a minute...we're trying to find some more stories you might like.
About the Writer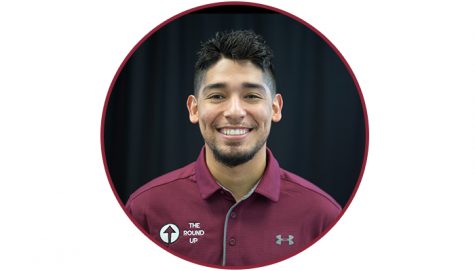 Jonah Gallegos, Sports Writer
Jonah J. Gallegos enters his second year at The Round Up and is currently a senior, majoring in journalism. Born and raised in Las Cruces, New Mexico,...