NMSU baseball ends senior day with a walk-off grand slam
Hang on for a minute...we're trying to find some more stories you might like.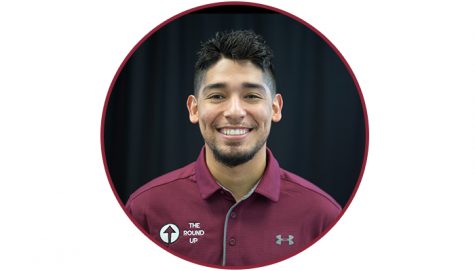 More stories from Jonah Gallegos
New Mexico State baseball ended their home schedule in dramatic fashion as a walk-off grand slam ended the game in the seventh inning, with the Aggies walking away with the 17-7 victory over Utah Valley.
Freshman second baseman Nick Gonzales was the Aggie to end things early as he belted a shot to deep right center with the bases loaded, that would end up putting the run-rule into effect and not give UVU any chance of coming back. It capped off a two-hit game for Gonzales, who also knocked in four RBIs.
NMSU (32-16, 15-6 WAC) was somewhat quiet with its sticks during this three-game series, but they slowly woke up in game three as the Aggies had 14 hits, 17 RBIs, and only left five runners on base the entire game. Head coach Brian Green's team really put pressure on the Wolverine's pitching staff, making them go through five different pitchers.
UVU (14-31, 5-13 WAC) did make things interesting, as they did the entire series (UVU lost in game one by a run, and in game two by four runs), scoring five runs in the fourth inning and only being down by a one-run deficit. Starting junior pitcher Alex Pinedo did not make it out of the fourth inning as he had tough back-to-back innings where the Wolverines were getting clean hits, and scoring all their runs in the third and fourth innings. Pinedo gave up seven hits, seven earned runs and had no strikeouts.
Reliever Matthew Perea came in and cleaned up the mess, making his final home game a special one to remember as the senior pitched almost three innings and only allowed three hits, three walks, zero runs and had four strikeouts.
Sophomore shortstop Joey Ortiz (3 for 3, seven RBIs) had himself a day blasting two three-run homers in game three of the series, and even doing so in back-to-back plate appearances. It was evident that the young man was in some pain as he suffered a bruised hand earlier in the season. Ortiz showed great poise and rose above the discomfort earning himself a three-hit game; if the Aggies are going to end the season strong and have a chance in the post season, they'll definitely need their sophomore shortstop healthy.
NMSU finished their home schedule with a final home record of 23-5. The WAC standings are a bit skewed right now as the Aggies have played more conference games than higher ranked Grand Canyon and Sacramento State. Nevertheless the Aggies do have a good chance of rising a few spots with the season wrapping up in the next couple of weeks.
"It's the most mature team that we've had since I've been here, our dugout's got a much more mature demeanor about it, everything is a lot more professional the way they go about it," Green said about this year's team. "Credit to that goes to our leadership council but this is the best balance we've had by far, I think statistically that'll back that up too if you look at it."

Hang on for a minute...we're trying to find some more stories you might like.
About the Writer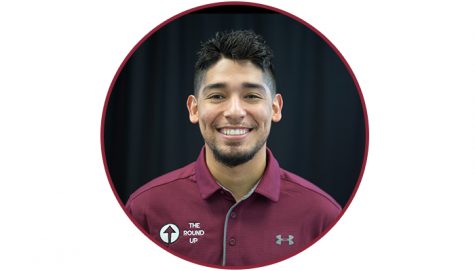 Jonah Gallegos, Sports Writer
Jonah J. Gallegos enters his second year at The Round Up and is currently a senior, majoring in journalism. Born and raised in Las Cruces, New Mexico,...