ASNMSU leaders hopeful that lobbying efforts bring money for renovated activity center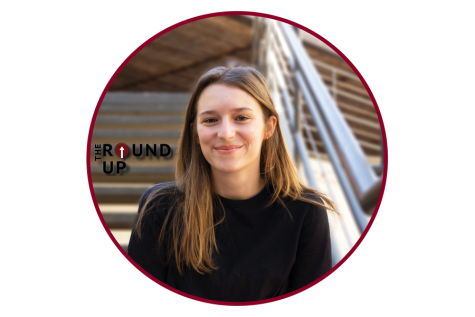 More stories from Noelle Whetten
For about a month, a team of student leaders within the Associated Students of New Mexico State University participated in the yearly legislative session up in Santa Fe to lobby for funds that would go toward various projects for students. 
The team hopes that their efforts are successful, especially with their recent proposal to use the money for renovations of the activity center on campus.     
ASNMSU President Garrett Moseley, collaborated with ASNMSU Director of Governmental Affairs, Citlalli Benitez, at the beginning of the semester to seek funding for some infrastructural changes for the James B. Delamater Activity Center, located on Stewart Street. 
"We noticed that there is some infrastructural changes that need to be done with the activity center, so what we thought would be the best thing to seek funding to make that our capital outlay request," Benitez said.  
The funding for this project first began around July 2022, when Moseley appropriated $20,000 from the ASNMSU Senate, that would support a project request form.  
The student fee revenue bond was also a source of funding for this project under discretion of the Student Fee Review Board, which assesses where student fees may be spent. Many programs, clubs and student organizations are supported by these fees. 
"Every year $3.6 million of student fees goes into a debt service, which is the student fee revenue bond. Every 10 to 15 years, it opens up and you can take on infrastructure projects, so this year, there's $28 million," Moseley said. 
After attending the first student fee revenue bond meeting, Moseley was able to secure $4.3 million for the project's funding. 
"That renovation would create a brand-new weight room which would be the back basketball courts," Mosley said.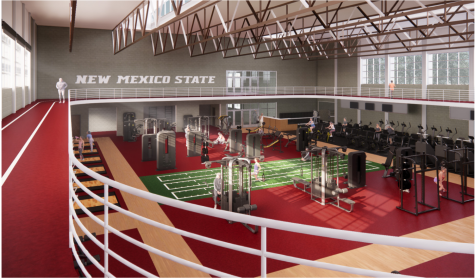 According to the James B. Delamater Activity Center Master Plan, the current weight room would be repurposed into a student lounge and study area while the auxiliary gymnasium would be converted into the new weight room. Renovations would take place in phases, dependent on funding, to also include the reception area, rock-climbing room/new martial arts space, and other external improvements. 
The activity center was last renovated in 1996. Many students use it for the weight room, cardio room, the basketball/volleyball courts and other activities. The activity center is available to all NMSU students and has provided them with an accessible gym on campus.  
Students were surveyed by ASNMSU about their usage of the facility. Results showed that 94% believed the weight room is too small and needs a little bit of an upgrade, according to Benitez.  
The current weight room accommodates 75 students max, so some students seek off campus alternatives.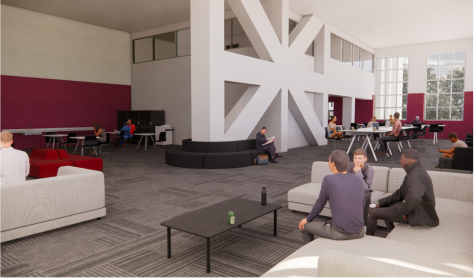 "That's awful, because at the end of the day, whether you're using the activity center or not, it's coming out of your student fees, and when comparing it to our competitors, for example, UNM, their Johnson Gym is 21,00 square feet and our gym is 4,800 square feet, so this should be a quality service that should be afforded to all students across the state," Benitez said. 
April Borjon, an NMSU Junior, no longer uses the NMSU Activity Center because of its size and schedule.  
"I was going there for quite a bit in the beginning of the semester, but over time, I just didn't like it," Borjon explained. 
One of the main things Borjon looks for in a gym is comfort and a judge free zone, which was hard to find at NMSU due to the size of the weight room.  
"When I was going to the gym here on campus, I just felt very uncomfortable because I would look to my left and I would see a bunch of people I have classes with, and then I would look to my right and I would see the entire track team," Borjon said.  
The ASNMSU team left for the legislative session Jan. 9 to attempt to secure $2.3 million, which would give them a total of $6.3 million for a first phase renovation of the activity center. 
"Each legislator gets a pot of money each year and this depends on the overall revenue the state has received," Moseley explained.  
From there, the team spoke to each legislature, specifically those within the Doña Ana County delegation and asked for a commitment of funds. 
Although the legislative session ends in March, the team came back to Las Cruces in February feeling confident. 
"I felt like every legislator was very interested in our project and overall gave us positive feedback and leaving the session I feel very confident that we'll get our full $2 million," Moseley said.  
ASNMSU will know if they were successful in their lobbying towards the end of March or early April.
Leave a Comment
About the Contributor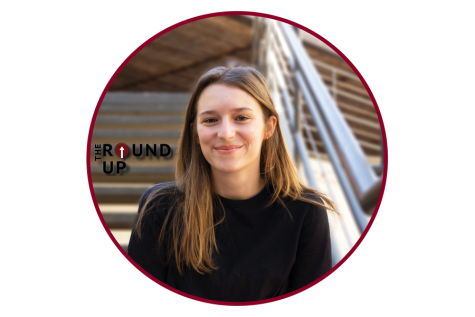 Noelle Whetten, Staff Writer
Noelle Whetten is a first-year writer at The Round Up, previously was a lifestyle writer. This is her senior year studying Journalism and Mass Communications...