Las Cruces International Film Festival unveils 2023 poster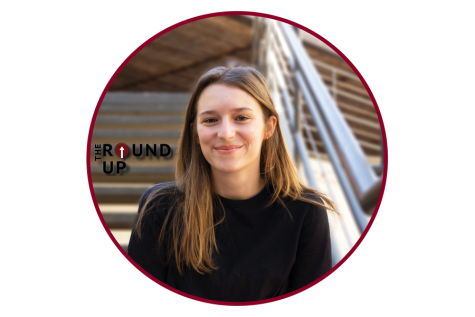 More stories from Noelle Whetten
The Las Cruces International Film Festival unveiled its official poster for this year's festivities at a reveal party on Feb. 11, 2023. Local artist Rush Allen had his artwork selected for this year's poster and was able to sign copies for those in attendance. The reveal party also named this year's celebrity honoree — Giancarlo Esposito. 
Every year a local artist is hired to create a poster that will represent and become the image of the film festival.  
Allen is a native New Mexican who has been painting and drawing for nine years. He mainly paints in a classical realist style. Growing up in Las Cruces, Allen's poster for the festival, was inspired by the roots of film in New Mexico. 
"The light and open landscapes brought film makers to New Mexico, and I wanted to capture that essence through the lens of Las Cruces," Allen said.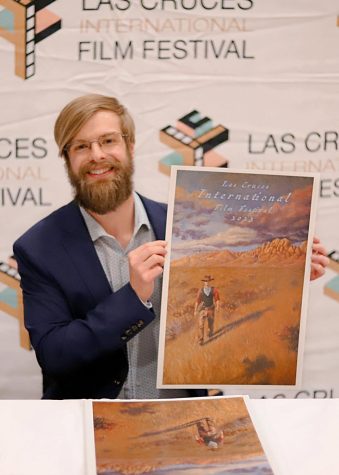 "I was drawing inspiration from the American landscape painters from the 20th century that were creating work in the Southwest around the time that film was growing. I also wanted to relate it to the college and film, so I infused that narrative into the painting," he continued.  
In addition to hiring a local artist, the LCIFF also welcomes an actor or actress each year to be the face of the festival and give students the opportunity to learn about real life experience with filmmaking.  
This year's guest is Giancarlo Esposito who is known for roles in "Breaking Bad" and "Better Call Saul" and "The Mandalorian." Esposito will come to campus to speak to students and also answer questions after a film screening of his choice on April 13.  
Award-winning filmmaker and professor at NMSU, Ross Marks, has been running the festival for around eight years and is excited to have an Esposito represent the festival because of his representation in New Mexico. 
Marks believes that the film festival is an important way for students, local filmmakers and international filmmakers to grow and promote their work. 
"[Students] do everything for marketing promotion, coordinating the celebrity visits, filmmakers' visits, the Q and A's at the festival, [and] selling tickets" Marks said. 
There is also an auction of the original poster painting that occurs every year, and that money goes towards the festival and classes taught by Marks at NMSU. This year's auction was four times higher than past auctions, Mark explained. 
"When somebody supports a film festival, they're supporting the student's experiential learning opportunities," he said. 
Digital Filmmaking student Ky Blohm participated in the film festival last year creating a short film as an assignment in one of Mark's classes. This year he is helping run the film festival so he may not have the time to create a film. 
"I want to because it's a lot of fun, and if you get really good friends on it, it's just a really fun weekend," Blohm said. 
Students can participate in the film festival through a 48-hour challenge where they are given a theme, genre and prop to create a short film with.  
Student short films are screened to the public and students have the opportunity to win prizes.  The theme will be revealed to students in late March. 
The main festival event will start April 12 and will continue until April 16. Tickets are available on the LCIFF website. 
Leave a Comment
About the Writer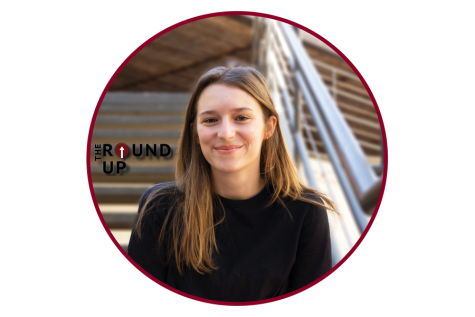 Noelle Whetten, Staff Writer
Noelle Whetten is a first-year writer at The Round Up, previously was a lifestyle writer. This is her senior year studying Journalism and Mass Communications...