In the home opener, the New Mexico State women's basketball team hosted the University of Arizona Wildcats, who have had three consecutive NCAA tournament appearances, and fell 68-57.  
The Aggies struggled offensively in the first quarter and went 1-14 from the field and 0-4 on three-pointers and quickly dropped to 19-6. Three of those came from turnovers as the defense kept the Wildcats on their toes but the offense was unable to keep pace.  
Trying to establish themselves on offense going into the second quarter, the Aggies came out hot going 4-4 from the field and tallying up the score to 23-16 to prompt a Wildcat timeout. The comeback effort was led by junior Sabou Gueye and senior Molly Kaiser who put up four points each.  
After improving to 6-7 on field goals, the Aggies entered a scoring drought in the final two minutes leading up to halftime, going down 35-23.  
Despite trailing, the Aggies shot 29% from the field goal and 20% on three -pointers due to their offensive woes in the first quarter. They looked good from the line with a free throw percentage of 75. The Aggies maintained a solid defense capitalizing by scoring nine points off the Wildcats 15 turnovers.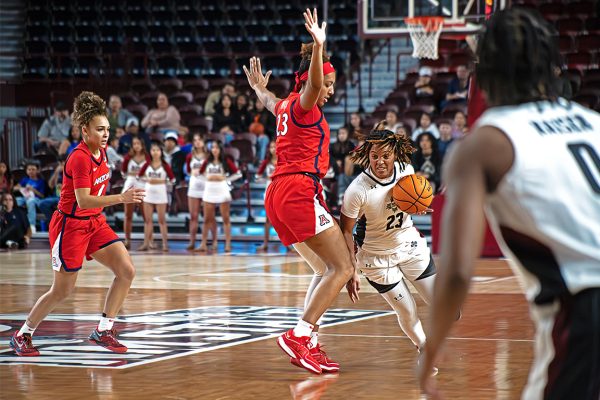 Entering the second half, the Aggies came out ready to play holding the Wildcats 0-6 on field goals and going on a 6-0 run narrowing lead down to 38-29 and forcing a Wildcat timeout. Late in the third, junior guard Sianny Sanchez-Oliver nailed a three-pointer off the bench and drew a charge on the other side halting the Wildcats momentum down 46-35.  
Attempting to cut down the lead, Kaiser hit back-to-back threes helping the Aggies go on 7-0 run and reviving the team's morale by only trailing 53-44. The Aggies were unable to overcome the Wildcat lead in the end and lost 68-57.   
Despite the unfavorable outcome, the Aggies finished with a shooting 35 % from the field, 47% percent from three line and went 67% on free throws. Kaiser led the scoring effort with 22 points while Gueye followed with 13.  
After the contest, Kaiser spoke on the teams' performance and their consistency from the floor. 
"It's always hard when you come out with a loss," Kaiser said, "It was really just about knocking down shots." 
Head coach Jody Adams discussed what the team will do moving forward from the loss. 
"I just think it gives us a group blueprint," Adams said, "Doing the details and being able to manage the game."  
The Aggies will now be hitting the road to face off against the University of Texas San Antonio Roadrunners on Friday, Nov. 10 at 6pm. Coverage will be streamed on ESPN +.