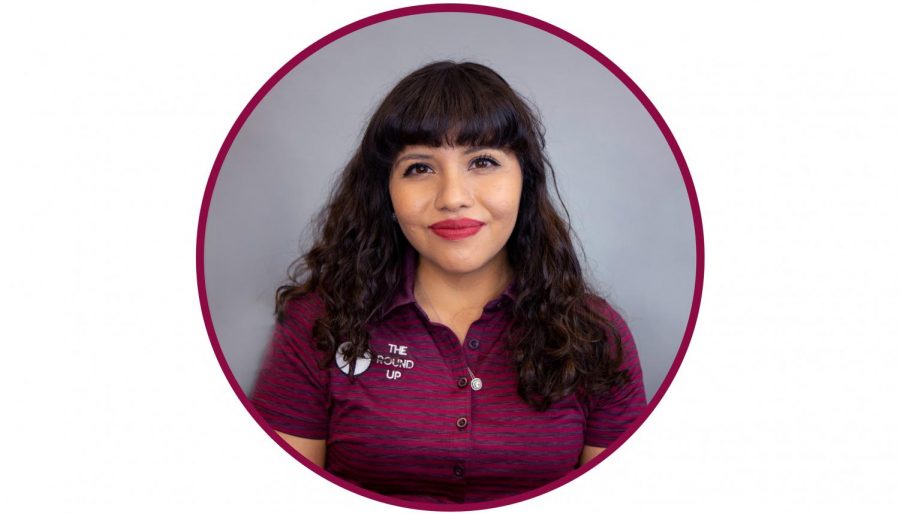 Marianne Salas is a senior at NMSU pursuing a double-major in English and Government with a supplementary major in Law & Society. She will be attending law school next fall. Born and raised in Las Cruces, New Mexico, Salas graduated as valedictorian from Gadsden High School in 2016. Aside from her position at the Round Up, Salas is an active member of the College of Arts and Sciences Student Ambassadors and serves as Vice President for the English Undergraduate Student Organization and as Secretary for the College of Arts and Sciences Council. She has been a member of Big Brothers Big Sisters since 2016.
Salas began working for the Round Up in August 2018 as a staff writer and is excited to step into the role of political writer for the 2019-2020 academic year. While not a Journalism major, Salas has always had a passion for writing. Her favorite stories that she's written so far include "NMSU organization decreases feral cat population on campus," and "NMSU's Chile Pepper Institute to possibly develop chile peppers for NASA."
In her free time, Salas enjoys reading, working out and spending time with her friends and family.
Marianne Salas, Political Writer
Nov 22, 2019

U.S. Supreme Court to decide on case addressing end of DACA program

(Story)

Nov 11, 2019

ASNMSU passes resolution addressing lack of resources available for Spanish-speakers

(Story)

Nov 05, 2019

ASNMSU fall elections show increasing voter turnout, re-elected senators

(Story)

Nov 04, 2019

Ranked-choice voting to be used for the first time in Las Cruces history

(Story)

Oct 29, 2019

20-year-old among Las Cruces mayoral candidates

(Story)

Oct 23, 2019

NMSU students react to #TrumpVideo circulating on twitter

(Story)

Oct 17, 2019

ASNMSU Senate to set limitations on candidates running together in elections

(Story)

Oct 07, 2019

US Rep Xochitl Torres Small visits NMSU to engage student voice

(Story)

Oct 01, 2019

ASNMSU Supreme Court bill spurs discussion

(Story)

Sep 27, 2019

Presidential rally spurs discussion of Latino conservatives on campus

(Story)

Sep 19, 2019

NMSU students comment on recent democratic presidential debate

(Story)

Sep 16, 2019

ASNMSU appointment of new executive Director of Activities elicits mixed reaction

(Story)

Sep 10, 2019

Former ASNMSU Vice President candidate among senate resignations

(Story)

Sep 05, 2019

NMSU Board of Regents passes Hemp Manufacturing Rule

(Story)

Sep 02, 2019

ASNMSU holds first meeting of the fall semester  

(Story)

Aug 29, 2019

Specifics of NMSU Leads 2025 plan remain in development

(Story)

Aug 22, 2019

Art department claims new home in Devasthali Hall

(Story)

Apr 29, 2019

NMSU looks to create more eco-friendly campus in lieu of recently-celebrated Earth Day

(Story)

Apr 23, 2019

NMSU to extend Sandia Laboratory partnership additional 10 years

(Story)

Apr 10, 2019

NMSU President Floros: Most of tuition increase will go directly back to students

(Story)

Apr 05, 2019

ASNMSU's "It's On Us" campaign raises sexual assault awareness on campus

(Story)

Mar 21, 2019

House Bill 7 looks to develop, expand NMSU agriculture

(Story)

Mar 18, 2019

NMSU's Chile Pepper Institute to possibly develops chile peppers for NASA

(Story)

Mar 14, 2019

Students weigh cost amidst nearing NMSU Housing Selection process

(Story)

Mar 07, 2019

NMSU kicks off Latino Week

(Story)

Feb 20, 2019

Black History Month underway at NMSU

(Story)

Feb 19, 2019

Aggie Experience offers glimpse of student life at NMSU

(Story)

Feb 14, 2019

Valentine's Day Provides Opportunity to Raise Awareness of Healthy versus Unhealthy Relationships

(Story)

Feb 04, 2019

NMSU athletics' "Grand in the Stands" promotion positively impacting winners' lives

(Story)

Jan 30, 2019

Chamisa's changing landscape raises questions on building exterior and water usage

(Story)

Jan 22, 2019

NMSU organization decreases feral cat population on campus

(Story)

Dec 06, 2018

Best holiday date ideas in the Las Cruces area

(Story)

Nov 05, 2018

Military and Veterans Appreciation Week begins with kickoff event inside Memorial Tower

(Story)

Nov 03, 2018

Time to turn back the clocks an hour: Daylight Savings Time set to end tonight

(Story)

Oct 29, 2018

NMSU's "Aggies Go Global" continues to provide international opportunities for students

(Story)

Oct 22, 2018

NMSU student programs work to combat effects of DACA rulings for students

(Story)

Oct 16, 2018

Halloween costume ideas for the NMSU couple

(Story)

Oct 04, 2018

Pete's Patio nearing completion

(Story)

Sep 28, 2018

NMSU students can exchange peanut butter for parking ticket reductions

(Story)

Sep 24, 2018

Students have several healthy options around NMSU's campus

(Story)

Sep 11, 2018

New, modern apartments attract NMSU students off-campus

(Story)

Sep 04, 2018

NMSU's Army ROTC cadets undergo combat water survival training

(Story)