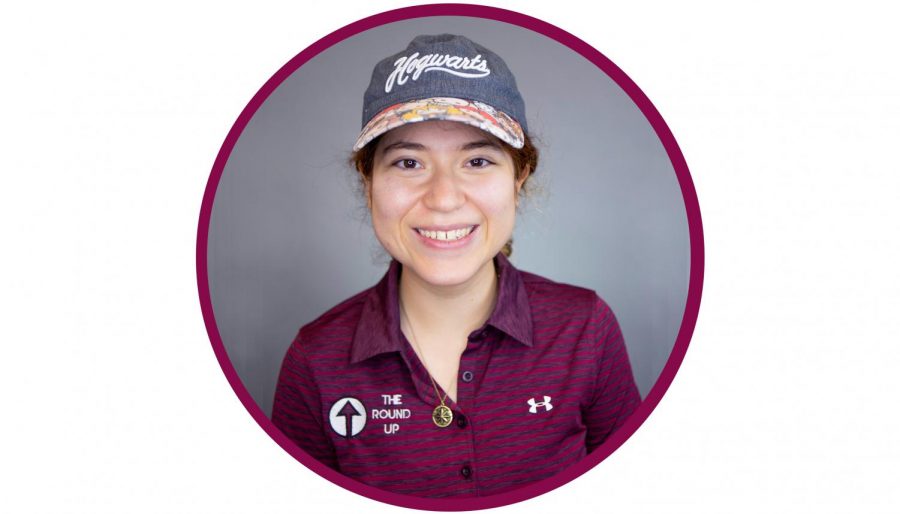 Lauren Roman is a junior double majoring in Animation and Marketing
at New Mexico State University
. She has been a staff writer for the Round Up for three years and has recently started creating illustrations in addition to writing articles.
Lauren is excited for the ability to utilize her two passions, writing and drawing, for the Round Up this upcoming year.
She hopes to go into the film industry, form her own studio, write novels or create comics.
Overall,
Lauren has a deep passion for animation
a
nd hopes to use it in whichever way is presented to her.
What she loves about reporting is the ability to show other people's stories and present pieces of the world that would otherwise go unseen. Her passion for journalism began her freshman year while working for the Round Up, and she is grateful for the opportunity to do what she loves while getting to work with different types of people.
Lauren loves spending her free time drawing, creating stories, reading, spending time with friends and family and watching movies and T.V. Shows (Star Wars, Marvel, DC, the Flash, anything fantasy or super-hero related she is down for!)
If you would like to be kept up to date with her artwork, be sure to follow her Instagram: @lauren_la_artista.
Lauren Roman, Staff Writer
Jun 09, 2020

I Can't Breathe

(Story/Media)

Apr 28, 2020

Possible virtual study-abroad program to accommodate international business majors

(Story)

Apr 13, 2020

Lifestyle: An Easter Epic

(Story)

Apr 13, 2020

Temporary suspension called for routine U.S. visa appointments

(Story)

Apr 07, 2020

Aggie Cupboard continues to provide food through pandemic

(Story)

Mar 30, 2020

Center for English Language Programs to close at end of semester

(Story)

Mar 19, 2020

Hands-on courses to change teaching methods in order to switch to online structure

(Story)

Mar 12, 2020

Round Up Lifestyle: Hope amidst the virus

(Story)

Mar 10, 2020

Department of Journalism and Media Studies to introduce a social media minor in Fall 2020

(Story)

Feb 26, 2020

Regents Row, Roberts Hall scheduled for demolition

(Story/Media)

Feb 18, 2020

NMSU student loses scholarship money to 'poor advice'

(Story)

Feb 13, 2020

Round Up Lifestyle: Anyone Can Celebrate and Receive Love

(Story)

Feb 12, 2020

NMSU's Confucius Institute set to close after spring semester

(Story)

Jan 30, 2020

NMSU's Juniper Hall celebrates grand opening

(Story)

Jan 28, 2020

2018 GO Bond construction set to begin Spring 2021

(Story)

Nov 21, 2019

CMI professor presents research on environmental design for Research and Creativity Week

(Story)

Nov 18, 2019

Volunteers restore NMSU student veteran housing

(Story)

Nov 11, 2019

Aggie Uptown infrastructure to be completed by January 2020, building tenants undecided

(Story)

Oct 30, 2019

NMSU offers vaccinations, services amid approaching flu season

(Story)

Oct 28, 2019

Campus organizations come together to support physical activities

(Story)

Oct 23, 2019

Round Up Lifestyle: A letter for the anxious college student

(Story)

Oct 21, 2019

New Weck's restaurant opens across from NMSU

(Story)

Oct 15, 2019

NMSU students voice opinions over formal impeachment inquiry

(Story)

Oct 07, 2019

Vaping raises concerns at NMSU

(Story)

Sep 26, 2019

Annual NMSU and UTEP blood drive held two months before teams compete

(Story)

Sep 23, 2019

NMSU partners with Electronic Caregiver for virtual reality research

(Story)

Sep 16, 2019

NMSU students receive scholarships from Virgin Galactic

(Media)

Sep 10, 2019

NMSU Bands Celebrate 100 Year Anniversary

(Story)

Sep 04, 2019

NMSU chief of police says majority of students not prepared for emergency situations

(Media)

Aug 29, 2019

Digital ID offers alternative form of NMSU event entry

(Story)

Aug 22, 2019

Art department claims new home in Devasthali Hall

(Story)

Apr 29, 2019

NMSU hosts second annual Two Nations, One Water Summit

(Story)

Mar 22, 2019

Late spring break sparks student opinion

(Story)

Mar 15, 2019

30th annual Bataan Memorial Death March to be held Sunday

(Story)

Mar 01, 2019

Music Beyond Borders brings harmony to border cities

(Story)

Feb 28, 2019

Juried Art Show accepts submissions from diversified student body

(Story)

Feb 20, 2019

NMSU HRTM class gets hands-on experience working with Salud! de Mesilla

(Story)

Feb 08, 2019

NMSU club pushes for a 'green' campus

(Story)

Jan 29, 2019

Tentative Cybersecurity degree awaits State approval

(Story)

Jan 18, 2019

Campus expansion brings demolition and renovation to NMSU

(Story)

Nov 30, 2018

NMSU to hold 34th annual Noche de Luminarias event Sunday

(Story)

Nov 12, 2018

Finding the unique classes NMSU offers as registration for Spring 2019 begins

(Story)

Oct 26, 2018

Aggie Health and Wellness hosts Exercise is Medicine event

(Story)

Oct 23, 2018

NMSU students hope to win lottery

(Story)

Oct 15, 2018

National Pizza Month: Top 5 pizza parlors near NMSU

(Story)

Oct 05, 2018

Peek of Las Cruces Street Fair host to many local businesses

(Story)

Oct 01, 2018

NMSU kicks off annual Homecoming week

(Story)

Sep 25, 2018

Students use LinkedIn to jumpstart career search

(Story)

Sep 17, 2018

Las Cruces hearing center debuts artificial intelligence hearing aids in state

(Story)

Aug 29, 2018

Corbett Center celebrates 50th anniversary

(Story)

Aug 27, 2018

Helpful tips to success for NMSU freshmen

(Story)

Aug 16, 2018

Freshmen enjoy Aggie Carnival

(Story)

Aug 14, 2018

Hypnotist Chris Jones Returns to NMSU

(Story)

Apr 19, 2018

NMSU takes part in 'It's on Us' movement

(Story)

Apr 18, 2018

Animal companionship classes offered at NMSU

(Story)

Apr 10, 2018

Arthropod museum hosted by NMSU begins this weekend

(Story)

Mar 30, 2018

Religious organizations at NMSU prepare for Easter holiday weekend

(Story)

Mar 14, 2018

Password requirements set to change at NMSU

(Story)

Mar 07, 2018

Las Cruces International Film Festival to begin tonight

(Story)

Feb 28, 2018

The celebration of Black History Month concludes at NMSU

(Story)

Feb 19, 2018

NMSU hosts Aggie Experience

(Story)

Feb 07, 2018

Top five places for Valentine's day dates

(Story)

Feb 01, 2018

College of Business offers new minor

(Story)

Jan 17, 2018

Off-Campus Bookstore offers cheaper books for New Mexico State students

(Story)

Nov 20, 2017

Vegetarians Look to Satisfy Their Thanksgiving Appetite in Different Ways

(Story)

Nov 02, 2017

Daylights Savings Time Comes To An End Early Sunday Morning

(Story)

Oct 30, 2017

Horrific Escape Room Teaches Dangers of Drunk Driving

(Story)

Oct 24, 2017

Engineering and Physics Combine into Technological Heaven

(Story)

Oct 12, 2017

Corbett Center's "Game Night" Has Become Popular Amongst NMSU Students

(Story)